If you live in the state of Georgia, you may be used to extreme heat during the summer months. With temperatures pushing 100 degrees, it can feel like you are being baked by the sun all day long. Extreme heat can not only feel miserable, but it can also put a strain on your air conditioning. Here Fritts Heating & Air discusses extreme heat and how it can affect your overall HVAC system during the warmer months.
What Can Affect Your Air Conditioning?
Heat
An air conditioner works by taking heat from inside, running it through the system and putting out cool air. First, the HVAC system collects heat from inside your home and sends it to the condensing unit outside. Then, the system must release that heat to the already-hot outside air.
When it's an extremely hot summer day, that means your air conditioning unit is working overtime. Not only is there more heat coming in via the sun, but the outdoor air is hotter as well. This makes it harder for the air conditioning unit to release the heat outdoors. When you have extreme heat, it's much more difficult to make inside cooler than outside. With that, there is more strain put on your air conditioning. It's much easier to release heat from indoors to the outdoors when the temperature is cooler, versus when it's extremely hot.
Humidity
Humidity also plays a huge role in how well your air conditioning performs during the warmer months. A high level of humidity means the air conditioner must work that much harder to get rid of the humid and moist air. If your older air conditioning unit doesn't have the cooling capacity to cool the present air, you will suffer and be miserable in extreme heat. Consider upgrading your system if your air conditioner in 10+ years old.
Airflow
Airflow is a major factor that determines how efficiently your air conditioner works. The HVACs performance is dependent on proper air circulation throughout the system. If the air is blocked or interrupted in any way, it can cause strain on the unit and not perform efficiently. Be sure to routinely check for common ways the airflow of your air conditioner can be interrupted.
Overgrown landscaping or fallen leaves and debris can impede airflow. Fritts Heating & Air recommends a clear space of two feet or more around the HVAC unit. It is also recommended to never locate a unit in an enclosed space. At least three sides of the unit need to be open. Blocked air flow can result in pressures within your unit being much higher, and the equipment overworking itself and not running efficiently.
Additionally, poor airflow can cause higher temperatures of the oil inside the compressor. These extreme temperatures cause a breakdown of that oil. The oil in an air conditioning unit is designed to last the unit its entire life span, sometimes up to 15-20 years. If the equipment is maintained and operating with adequate airflow, the oil should remain "healthy".
It's important to have proper airflow for your system to work properly. Routinely check around the unit outdoors. On a non-windy day, run your system and check the air temperature within an inch or two of the inlet. The temperature should match the air 20 feet away. If the air entering the HVAC unit is higher, then you probably have a recirculating problem. If so be sure to call Fritts Heating & Air ASAP to have maintenance done on your system.
Equipment
HVAC equipment during extremely hot months shouldn't put much wear and tear since air conditioning units are designed to handle high temperatures. As long as the system has been maintained properly, the system should work efficiently. With that being said, dirty condenser coils accompanied with really hot air put the worst wear and tear on your air conditioning system. Extreme heat and dirty coils cause the internal operating pressures and temperatures to exceed normal operating limits. If the equipment operates inefficiently for too long, the oil inside will overheat. Burned oil is not a good lubricant, and turns acidic. Ultimately the compressor will not be able to run and your system will shut down. Routinely have your equipment checked and maintained to keep your system working efficiently.
If it's time to upgrade your HVAC equipment, be sure to get the new unit sized properly for your home. Consult the professionals at Fritts Heating & Air to figure out what system works best for your home.
Tips To Help Your Air Conditioning System To Run Efficiently
Change your air filter. A dirty filter can put a strain on your air conditioner and cause them to break down.
HVAC systems are built to work in normal conditions. When you experience extreme heat, turning down the thermostat will not make it blow colder air. Set your thermostat to the temperature you want and leave it.
Utilize blinds and shades to keep your indoor temperature cool. The higher the indoor heat the harder your system works.
Routinely check your vents. Make sure they are not being blocked by furniture or other household items.
Make sure your outside air conditioning unit has enough space from landscaping on all sides.
During the hottest part of the day, turn off anything that produces heat such as stoves, dishwashers, lights, etc.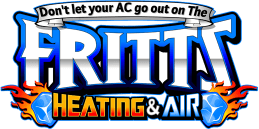 Call Fritts Heating & Air Today
Fritts Heating & Air is a reliable heat and air service and HVAC contractor with over 20 years of experience. We provide Canton and North Georgia with expert heating and air conditioning services. If you need HVAC services in Atlanta, GA and throughout North Georgia, you can rely on us for your HVAC repairs and installation for residential and commercial properties. Since our inception, our philosophy is to provide our customers with quality and affordable HVAC services through professionalism and honesty.
Need HVAC service, AC repair, or a smart thermostat installed? You can rely on Fritts. We provide heating and cooling services for air conditioning repair, commercial HVAC, furnace repair, smart thermostat installation, HVAC repair and installation, and more. We also offer HVAC financing options! Contact us today online at (678) 855-8545 to schedule your HVAC service, repair, or installation.