Every home has a thermostat and the smart version of this piece of equipment gives homeowners more control over their heating and cooling. Smart thermostats have definitely become an exciting feature in our homes today and are an extension of the growing smart home market. The average U.S. family spends roughly $2,000 or more per year on utilities, with heating and cooling of spaces alone accounting for more than half the bill. If you live in a part of the country known for freezing winter temperatures, you can expect to pay a decent amount for heating. And if the season is worse than what forecasters predict, heating costs will go up even more. Here Fritts Heating & Air break down the benefits to smart thermostats and the top brands on the market today.
Benefits Of Smart Thermostats
A smart thermostat helps because the device is able to learn your preferences and adjust accordingly. This means that if you turn down the heat before you leave for the day, the thermostat will pick up on your habits. If no one will be home until the late afternoon, why waste heat? Below are a few of the main reasons why it is important to invest in a smart home thermostat.
Reduces Energy Usage and Costs
Sends Energy Reports to Your Smartphone
Adjusts the Temperature
Easy Remote/App Access
If you're interested in reducing your energy costs, and making the most of your home, the benefits of smart thermostats speak for themselves.
Top Thermostats On The Market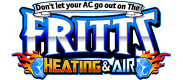 Call Us Today
Upgrade your home and comfort level and save on utility costs with a smart thermostat. Smart thermostats learn your behaviors and optimize your cooling and heating system's output. Fritts Heating & Air can professionally install and train you on any of the smart thermostats available today.