How many times have you been searching for hours on end for the right contractor for the job? When it comes to your HVAC system, the last thing you want to happen is for your system to break and stop working. Finding a trusted and reliable HVAC contractor can be tiresome and time-consuming. You could find one and learn that they might not be insured or may take longer than you want/need to get to your house.
Additionally, the HVAC industry has had a bad reputation in the past and several homeowners worry that a contractor will be dishonest or even rip them off. These are all legitimate concerns for every household that depends on an HVAC system for clean indoor air quality and comfortable indoor temperatures. Well, Fritts Heating & Air is here to discuss useful tips to help you find the best HVAC contractor in the state of Georgia.
Top 5 Helpful Tips To Find An HVAC Contractor
Research & Referrals
One of the biggest and most useful tips for finding a reliable HVAC contractor near you is to ask friends, family and neighbors who they recommend. In most instances, a good referral is all you need. Having someone you trust to refer you to an HVAC contractor can make the research process quick and easy.
If you need additional research, take a look at the HVAC contractor's reviews on Google, Facebook, BBB or other channels. These reviews can give homeowners a better insight into the kind of business they have or how they conduct business. Will they leave a job unfinished? Are they reliable and on time? Online reviews are very useful and the majority of people today turn to them to make decisions.
Licensing & Insurance
With all the respected and reliable HVAC contractors out there come the others. In today's market, there are several companies that will be cheaper and look appealing to your wallet and time. The only problem with these companies is that they might not be licensed by the state of Georgia or even have insurance to cover their own workers or companies.
A major tip to finding the best HVAC contractor for the job is to check to make sure they have proper licenses and certifications. Without them, the contractor can put you and their own business in a legal situation you DO NOT wanna be in. Check websites like the BBB to see if a contractor is "legit" and has the right licenses and certifications.
Experience Matters
Everyone knows that experience is everything. When seeking out referrals from others, also look at the HVAC contractor's experience. If the company is brand new and has never done a similar job in the past, you may want to rethink your choice. Take Fritts Heating & Air as a prime example. Fritts has been servicing North Georgia for over 20 years and has the experience to back up our service. A HVAC contractor with experience will not only save you time but money as well. These seasoned technicians know how to diagnose a problem and have your system running properly and efficiently in no time.
Get Multiple Quotes
Sometimes, the lowest price isn't always the best choice for the job. This is due to some HVAC contractors charging affordable and lower rates for low-quality service. Because of this, it's essential to obtain at least three quotes and compare them thoroughly to choose the right HVAC contractor. For instance, you can weigh your candidates' good and bad aspects, making the selection process easier and faster.
By doing this, you'll know which one offers quality HVAC services at a reasonable price and select the best deal that fits your budget.
Communication With Your HVAC Contractor
Communication throughout the whole process is vital. Knowing what is going on and being in the forefront of issues and changes can make or break a good contractor. Ask specific questions! For example, you can look into some essential details to know more about your contractor. You can inquire about the types of products and services offered, their availability, and their time frame for completion.
If they can't answer your questions correctly, it might be a sign that they're not good enough for your heating and air conditioning needs. This can mean that they're not serious about offering the services you're looking for.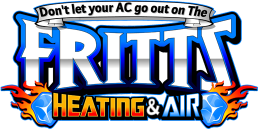 Stop Searching For A "HVAC Contractor Near Me". Call Us Today!
Fritts Heating & Air is a reliable heat and air service and HVAC contractor with over 20 years of experience. We provide Canton and North Georgia with expert heating and air conditioning services. If you need HVAC services in Atlanta, GA and throughout North Georgia, you can rely on us for your HVAC repairs and installation for residential and commercial properties. Since our inception, our philosophy has been to provide our customers with quality and affordable HVAC services through professionalism and honesty.
Need HVAC service, furnace repair, or a smart thermostat installed? You can rely on Fritts. We provide heating and cooling services for air conditioning repair, commercial HVAC, furnace repair, smart thermostat installation, HVAC repair and installation, and more. We also offer HVAC financing options! Contact us today online at (678) 855-8545 to schedule your HVAC service, repair, or installation.